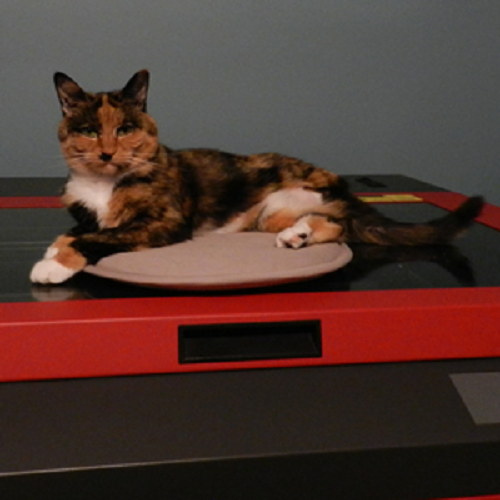 Cassie - our mascot and welcoming committee – (pictured on the right) says, "Welcome to Lasered Treasure, our home-based lasering business!" Our business started in 2009, and we are still growing, learning, and finding new items to engrave every day. We live in a military area and started out doing wooden coins and other designs for our local Coast Guard and Navy servicemen and have expanded and grown to what we are today. We just increased the size of our machine to fit 32" X 18" projects (no deeper than 9"), increased our laser strength to 60 watts, and are now able to do some stainless steel with our new HDFO Lens.

Most of our work is custom-made with our customers bringing us products they would like to have engraved, but we do have a small supply of glassware, wood, notebooks, mat board, cork coasters, cork trivets, and cutting boards on hand that are ready to be lasered with a person's preferred design. We also have a small supply of items that are already lasered and ready for sale; just contact us if you would like to see photos of these items.

We can laser on most materials, and we can cutout designs from wood that is no more than 3/8" thick. We engrave on many standard products: wood, glass, marble, plastic, tile and cork, as well as some not so standard products like leather, Mylar, and ostrich and emu eggs - with very good results. We are always open to trying new materials and expanding our capabilities and knowledge.

Our designs are based on vector and clipart images. We do not take any copywritten or trade-marked images. We accept JPEG and WMF images – the larger the better – which we then convert to laser-ready images. There is a drawing fee for this service (please contact us for this cost). Below is a sample of some converted designs and some or our original designs.

Again, Welcome and we look forward to your future business.